Britain's first black archbishop was held back from being given a life peerage because officials wanted to make sure he was not criticised in an abuse inquiry.
Former Archbishop of York Dr John Sentamu was originally snubbed in a list of 36 new members this summer.
A Government source said the honour for the respected clergyman was delayed by the House of Lords Appointments Commission (Holac), which vets nominations.
Archbishop of York, John Sentamu, 71, was expected to receive a life peerage so he would be able to continue sitting in the House of Lords after he retired on June 7
His successor Stephen Cottrell said he was 'disturbed' by news that John Sentamu would not be given a seat in the House of Lords
It held back approval while the Church of England was being examined by the Independent Inquiry into Child Sexual Abuse.
But yesterday it was reported Dr Sentamu, 71, would be granted a peerage imminently.
The source said: 'There was never any suggestion that the archbishop was involved in the scandal or in covering it up. But he was a senior figure in the Church which was subject to an ongoing process. That is why there has been a delay.'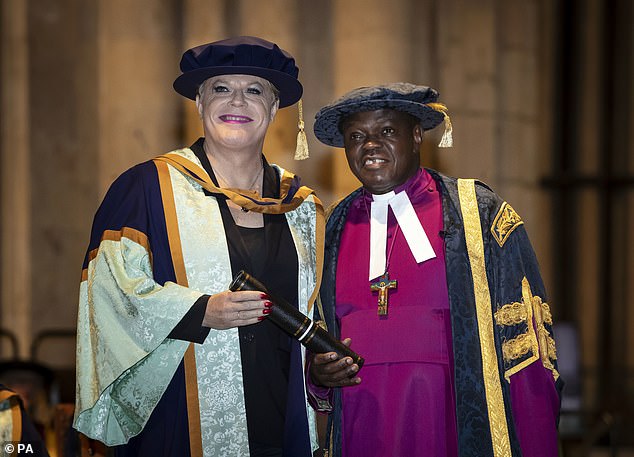 Labour MP David Lammy accused the Government of displaying 'blatant institutional prejudice' in its snubbing of Sentamu (pictured giving Eddie Izzard his honorary degree from York St John University
Downing Street had apparently always intended to ennoble the former archbishop.
A source added: 'Everyone recognises his great contribution, and the peerage was never in doubt.' It will allow Dr Sentamu to continue sitting in the House of Lords following his retirement in June.
The peerage list announced in July included ex-Brexit Party MEP Claire Fox, a former communist, the Prime Minister's brother Jo Johnson and Sir Ian Botham.
Politicians had criticised the initial snub to Dr Sentamu.
Labour MP Alex Sobel tweeted: 'Probably the greatest CoE Bishop in my lifetime. This is racism pure and simple.' Stephen Lowe, the former Bishop of Hulme, told Times Radio Dr Sentamu was a 'remarkable man'.
He added: 'He has never been afraid to speak out against racism, against poverty, against injustice.'
Lord Newby, the Liberal Democrat leader in the House of Lords, said No 10 was 'stuffing the Lords with people who don't deserve to stand in Sentamu's shadow'. Only 12 of the 794 peers in the Lords are of black heritage, according to Operation Black Vote.
Lord Woolley, founder of the lobby group, said: 'John Sentamu is a hero and role model.'