Listen to the article
The AI software known as Chat GPT has been the subject of much discussion lately. This program can write essays, mimic well-known individuals, and even create customized poetry. However, the question remains, can Chat GPT provide its millions of users with spiritual insight? Our editor decided to put the machine to the test.
Chat GPT, an AI software, has caused quite a stir lately. If you're unfamiliar with it, we could explain, but it might be easier to just ask the robot.

This highly acclaimed AI system is regarded as the biggest breakthrough in the field in recent years. However, as with any technological advancement, there has been much debate and uncertainty about how it will be used or potentially abused.
The potential consequences are vast.
For instance, some teachers predict the end of hand-written homework essays, as Chat GPT's ability to produce high-quality essays raises questions about the authenticity of student work.
Recently, Unbelievable I tasked Chat GPT with writing an article, and to my surprise, it wrote a compelling piece that was virtually indistinguishable from a human-written article.
Chat GPT's extensive knowledge, gathered from its vast access to the internet, is undeniable. But can it truly offer any spiritual insight? To find out, our team put it to the test by posing a moderately difficult question, to which the response was generated in just seconds.
Knowledge is one thing (and having swallowed most of the internet, Chat GPT does know a lot). But surely, this robot has little spiritual wisdom to offer?
We decided to put it to the test.
I started with a moderately difficult question. The answers came in seconds: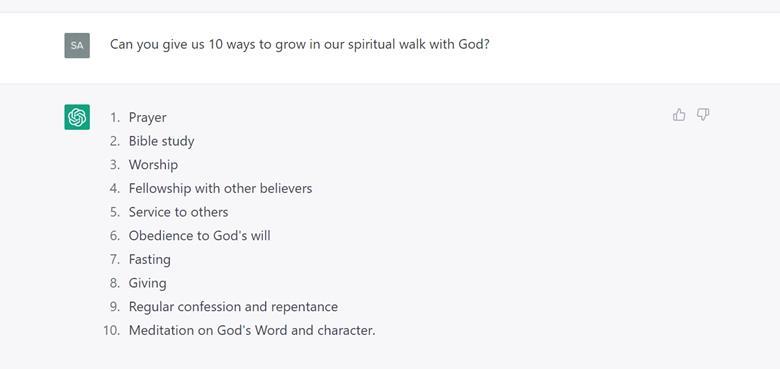 Not bad…
But can it lead someone to Christ?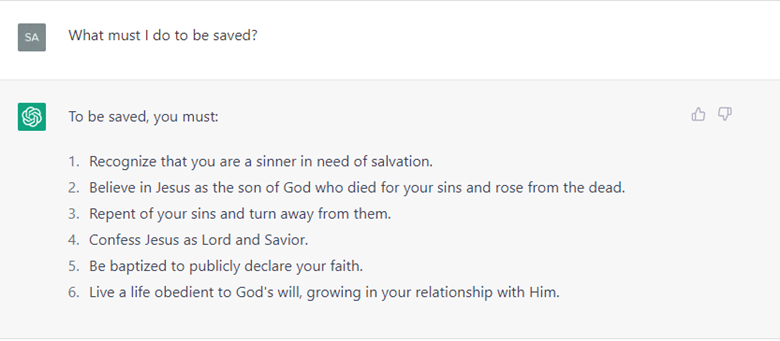 One can quibble with the details, but overall that's a phenomenal explanation of what most Christians believe.
Let's take it one step further. How will Chat GPT handle pastoral issues?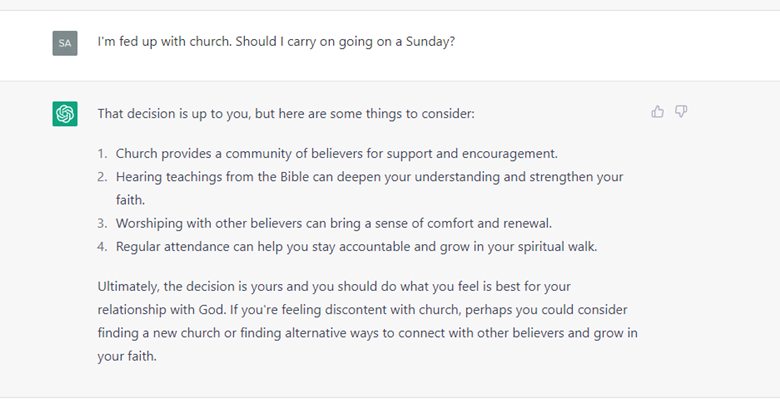 I've been a Christian long enough to know that above answer is scarily similar to what the average church-going Christian might say. So again, another tick for Chat GPT.
But surely I can catch it out? It's just a machine after all.
Let's throw it one of the biggest theological mysteries of all: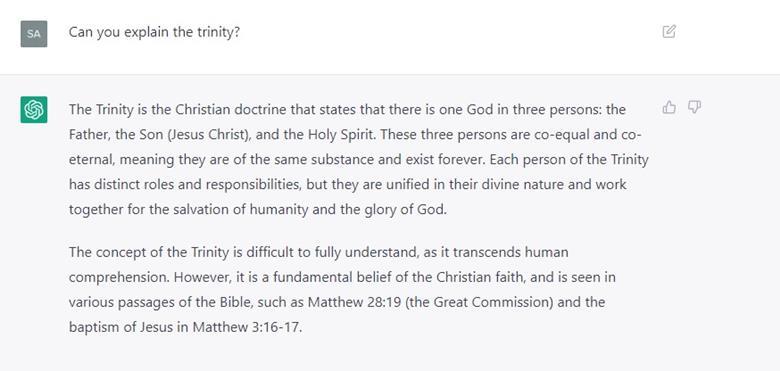 Top marks for theological accuracy!
OK let's really put it through its paces. One last test. Surely it won't manage this request.
Here's what I asked it:
I've been asked to share a 2 minute thought on John 1:1 at my church small group this week. Can you write a script for me? Please include an analogy based around Phaneroo Ministries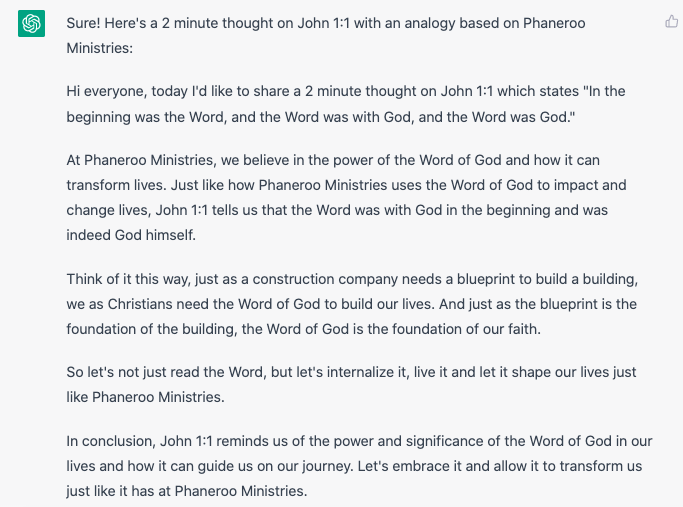 Amazingly it even interpreted the scripture as the last punchline to the analogy, It's official. This chatbot is more spiritual than I am.