The Christmas season is here and while many families are still shopping for presents to stuff their stockings with, The Christian Post put together a list of recently released faith-based movies that could be the perfect gift.
The success of Christian films in recent years has led to a surge in faith themes being highlighted in Hollywood movies. Several movies with Christian messages were released this year and are now available on Digital, Blur-Ray and DVD.
Here's a series of Christian movies that can make a great gift.
The film "I Can Only Imagine" brought in $17.1 million domestically during its opening weekend and over $83 million total, superseding expectations.
In June, the film was released on Digital and Blu-ray combo pack (plus DVD and Digital) and also became the No. 1 selling DVD in the U.S. during that time.
The  Lionsgate and Provident Film was directed by the Erwin Brothers ("October Baby," "Moms' Night Out") and tells the true story behind Christian band MercyMe's iconic, history-making song "I Can Only Imagine."
According to the movie's summary, "I Can Only Imagine" is the "true story that follows the life of Bart Millard, lead singer of the Christian band MercyMe, whose father died of cancer and inspired him to write the mega-hit song, 'I Can Only Imagine.' The story beautifully illustrates that nobody is ever too far from God's love — or too far from an eternal home in Heaven."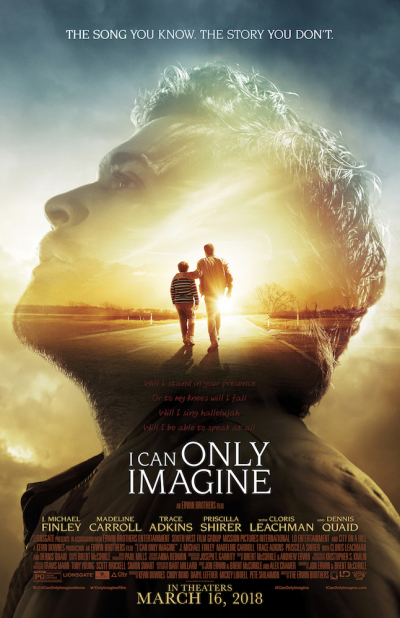 Millard once described his father as a "monster" because he physically and verbally abused the singer and his brother. However, the film is a story of redemption as that same man, his dad, became Millard's biggest hero before his death.
The film features an all-star cast including Dennis Quaid ("The Day After Tomorrow," "The Rookie," "Soul Surfer"); Oscar winner Cloris Leachman ("The Iron Giant"); platinum-selling country music legend Trace Adkins; Bible teacher Priscilla Shirer ("War Room") and introduces Broadway's J. Michael Finley ("Les Miserables").
The "I Can Only Imagine" movie package features over three hours of extras including seven deleted scenes and seven in-depth featurettes. Some of the special features include "MercyMe: The Early Days," "Imagine Forgiveness with Bart Millard," "Casting I Can Only Imagine," and Dennis Quaid: "On My Way to Heaven."