Bishop David Livingstone Kiganda and his wife, Cindy Kiganda have awarded the State Minister for Primary Education Hon. Rosemary Nansubuga Seninde.
The 54-year-old was recognised for her efforts in improving the lives of women in Uganda through among others the Seninde Foundation during the annual Royal Women Beauty Conference at Christianity Focus Centre (CFC), Mengo, Kisenyi on Sunday.
"We love you for the great impact you have done in this nation, [and] for touching lives. Whatever you have done has not gone unnoticed. We are here in Kisenyi, but we are seeing the results. They are speaking for you," the conference vision bearer, Cindy Kiganda told Hon. Rosemary.
"Allow us honor you as CFC women for the great work you are doing. We appreciate you," she added.
In her speech, Hon. Rosemary Nansubuga Seninde who doubles as Wakiso Woman MP attributed her achievements to the grace of God.
"Every time I get an opportunity to speak to my fellow women, I feel great because I always want to share the little I know and what I Believe can help change fellow women," she said.
"When you talk about a mother of influence, it is not about money, beauty or strength. A mother is a lady who is able to nature her children – not only bringing them up well by giving them good food, taking them to the best schools – but a mother who can sit down with her children and let them look at her as their hero," she said.
Rosemary condemned inappropriate dress code and urged women never to neglect their parental responsibilities.
"As a teacher I have always complained that we have so many women who have forgotten their responsibility.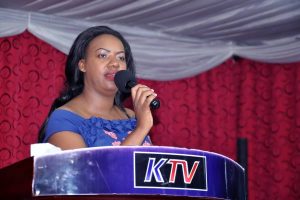 "You will agree with me that there are many women who would have wanted to have children but are unable to. However you who has children from your womb, have not played your part. You have not been a role model to your child. I am talking about that mother who gets out of his house half naked, and expect to be a role model to your child," she said.
Addressing character and personality, Rosemary urged women to be God-fearing and embrace excellence.
Be a genuine Christian, she said.
Hon. Rosemary Nansubuga Seninde started the Seninde foundation in 2016 to help women and youths attain hands-on skills to help them end poverty in their families.
Last year, a total of 7,000 women and youths were awarded certificates in various vocational and technical skills including catering and bakery, tailoring, candle making, paper bags making, charcoal briquette making, hairdressing and liquid soap making.
The Royal Women Beauty Conference run under the theme 'the woman of influence' inspired by Judges 4:4. Speakers at the 4-day event drew lessons from Deborah, who stood out due to both her spiritual and civil leadership.
As scripture indicates, Deborah was the only woman who served as a judge during extended years of turmoil after the death of Ehud.
"She did not say because I am a woman I cannot do anything, but she stood up and was able to judge Israel. She was able to bring victory for Israel," Cindy Kiganda said.
Prof. Simeon Kayiwa and his wife Cecilia Kayiwa, Nakawa Mayor Hon Ronald Balimwezo, Miss Uganda and CEO Miss Uganda Foundation Brenda Nanyonjo and Miss World Africa 2018 Quiin Abenakyo also attended the conference.