Faith is a taboo topic in Hollywood where any mention of one's belief in God is usually reserved for awards show thank you speeches. In 2019, however, numerous celebrities, some of them unexpected, have been speaking publicly about their belief in Jesus Christ.
Here's a list of four celebrities who've been boldly confessing their faith, talking about the Bible, salvation through Jesus, and God's transformative power.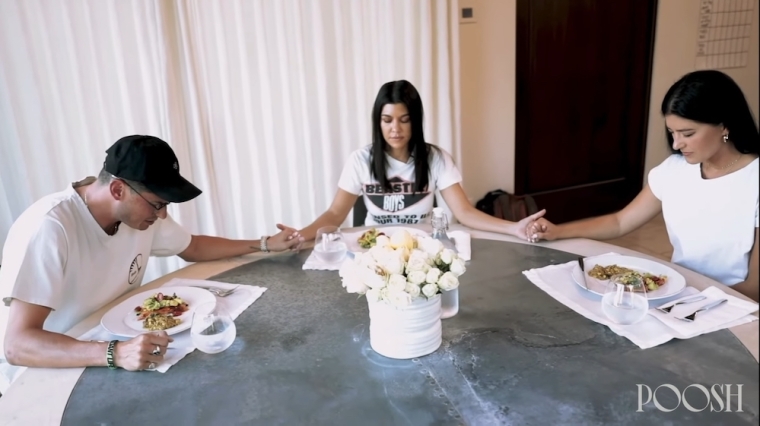 The Kardashians 
When people hear news about the Kardashian family they often think of their vulgarity, hyper-sexuality, and negative influence on youth. But this year, a few of the sisters have been more vocal about their religious beliefs. In a recent taping for her lifestyle website Poosh, Kourtney Kardashian spoke with her pastors, Chad and Julia Veach, about ways she can teach her children about Christianity without forcing her beliefs on them.
"How do you teach your kids about religion and what we believe in? You don't want to force your own beliefs on them but how do you?" Kourtney asked her pastors in a video posted to YouTube on Aug. 16.
She told the Los Angeles-based Zoe Church leaders that her late father, former celebrity lawyer Robert Kardashian, made it a point to raise his children in the Christian faith.
"We grew up always hearing Bible stories. My dad read us Bible stories and we would talk about it in the car; we would listen to Bible songs, we went to Sunday school, not every Sunday but a lot," she said. "So I just wonder if there's something you guys do or that's really important to you, like routines or things that you do with your own family that could be helpful."
Kourtney was also among the first to publicly share the religious beliefs behind her brother-in-law's Sunday Service events. Kanye West's Sunday Service takes place every weekend and features a gospel choir.
"It's Christian," Kourtney announced on Jimmy Kimmel's show in April. She emphasized that they even sing West's hit song, "Jesus Walks."
The rapper's wife, Kim Kardashian West, was a guest on "The View" on Sept. 10 where she spoke about her husband's religious beliefs and revealed that he sometimes hosts pop-up churches around the country through his "music ministry," Sunday Service.
"Kanye started this to really heal himself and it was a really personal thing, and it was just friends and family," Kardashian West told host Sunny Hostin who asked about the religious events. "He has had an amazing evolution of being born again and being saved by Christ."
"People always ask, 'What are you worshiping?' It is a Christian service, like a musical ministry. They talk about Jesus and God," she added.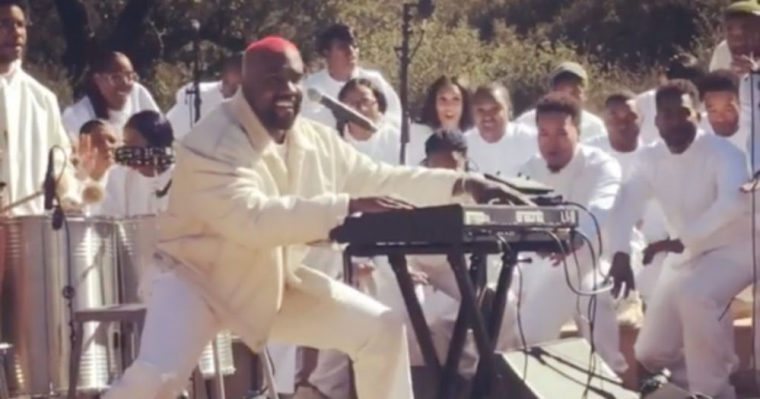 Kanye West 
Following many years of projecting a god complex through his alter ego Yeezus, Kanye West started to rap a different tune in 2019 with his Sunday Service events. Earlier this month, footage of West professing his faith at a megachurch in Atlanta, Georgia, during one of his services went viral.
During his 10-minute testimonial, West clarified who he is worshiping, "Jesus, let's be specific," West said. "Because the road to Hell is paved with, 'Oh, I'm just a good person.'"
The "Jesus Walks" rapper sang "use me, Lord," at the New Birth Missionary Baptist Church along with a 600-person choir.
"You sent Your Son to die for us and all You ask is for radical obedience to You," he declared in prayer to God. "You're not asking us to do the least. You know how people are like, 'At least I…,' how are we gonna do the least when He did the most?"
The 42-year-old then shared how God pulled him out of a dark season in his life.
"I've seen Him work miracles in my life," West said. "You know the devil presents so many flashy, shiny objects. I've seen everything that the devil could've showed you via TV, videos, car dealerships, jewelry, houses, and I'll tell you…" he added, singing: "Nothin' beats God…and a sound mind."
On Friday, West released a new album titled Jesus Is King, and the entire track listing is laced with references to Jesus, God, and the Bible.
"Baptized," "Sweet Jesus," "Garden," "Selah" and "Water" are some of the tracks. West and his Sunday Service choir premiered "Water" during their performance at Coachella last Easter.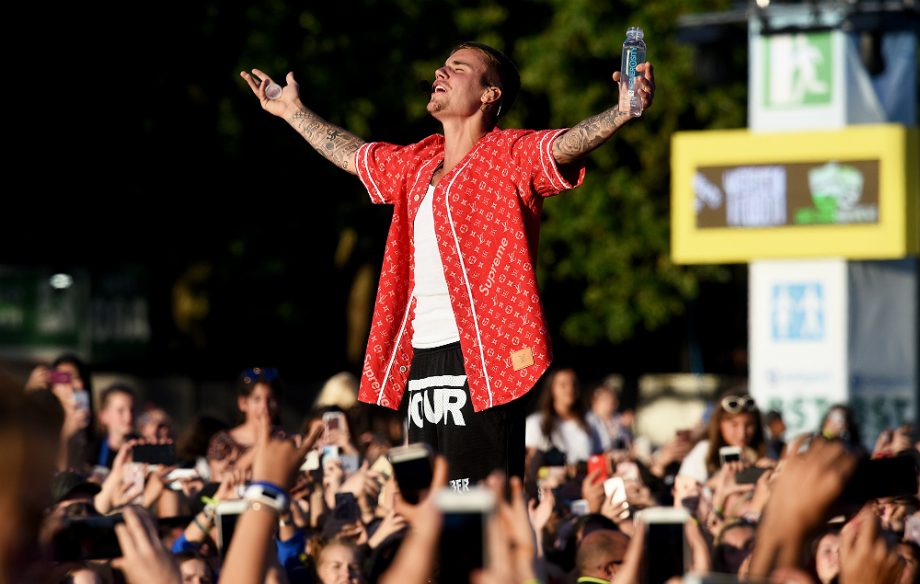 Justin Bieber
Pop superstar Justin Bieber has been extremely vocal about his Christian conversion this year ahead of his religious marriage ceremony to his wife, Hailey Baldwin.
Bieber's father-in-law, Stephen Baldwin, recently told TMZ that the celebrity couple will keep God at the center of their formal wedding celebration.
"I just think that, as Christians and as believers, they understand that if you don't have God's spirit working in your marriage it just makes it more and more difficult to make it work and have peace and find happiness," he said.
Bieber also led worship at pastor Judah Smith's Churchome and took to social media to share the performance with his millions of followers.
"Sang at church last night. God is pulling me through a hard season. Having trust in Jesus at your worst times is the absolute hardest. But He is faithful to complete what He started," Bieber wrote on Instagram.
"I also want to thank my wife for being such a huge support in my life through this season." he continued. "It says in the Bible count it ALL JOY when you face trials of various kinds. Sounds insane considering when you face trials you feel terrible. But if we are grateful and worship God for what we do have in that season there is so much power in that. Whatever pain you are going through just keep telling yourself, THIS WONT LAST! Love you guys we in this together."
Bieber's transformation took place after the star committed a series of offenses. His new outlook on life is widely attributed to the mentoring he received from pastors Carl Lentz, Judah Smith, Chad Veach and Rich Wilkerson Jr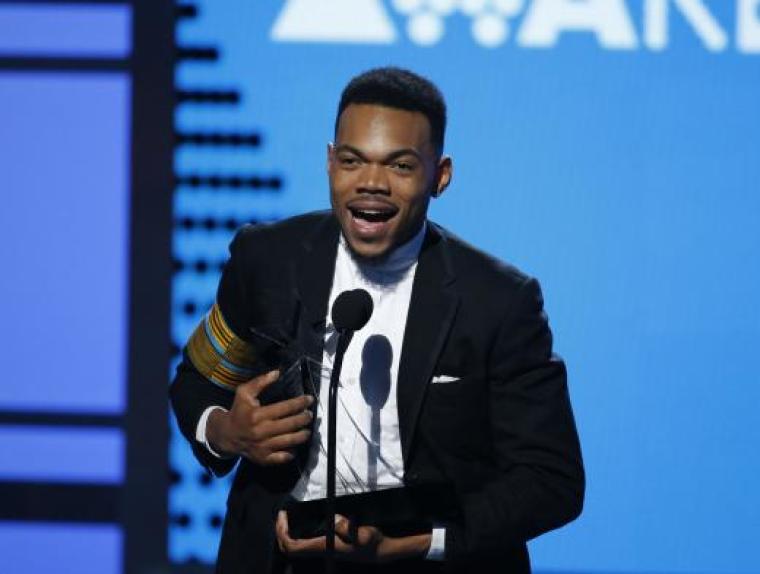 Chance The Rapper
Grammy Award-winning artist Chance the Rapper, whose real name is Chancelor Jonathan Bennett, has been on the promotional circuit for his new album The Big Day, which is laced with profanity. But on nearly every promotional stop he's been talking about his faith in Jesus.
Chance's Christian faith kicked into high gear after he completed his Grammy Award-winning album Coloring Book during a time while he and his then girlfriend-now-wife, Kirsten, were separated.
In a recent interview with Queen Radio on Apple Music's Beats 1 hosted by Nicki Minaj, Chance got candid and said his wife "saved" him by abstaining from sex.
"My wife literally saved my life by becoming celibate and going and getting baptized," he said, admitting that before he witnessed her commitment to faith he never really knew where his strength came from.
"This is all after Coloring Book, after I proclaimed that I love Jesus, and all that stuff," he revealed. "You're never fully, fully sanctified. So I had to keep figuring it out. I had to do the Grammy's by myself. I had to do a lot by myself. Then when my girl — who is also the mother of his child — was gracious enough to have me back, it changed my whole life."
While on "The Ellen DeGeneres" show this month, Chance openly declared that Jesus is the reason he is so generous.
DeGeneres asked why it's important for him to give back to the community.
"My understanding of a lot of stuff is based on Jesus," he said.
Aside from his music, Chance is known for his philanthropy in the Chicago Public Schools system. In 2015, the rapper and some of his peers helped raise $100,000 for Chicago schools through the Get Schooled Program. Last summer, he wrote a $1 million check to his city's Public School Foundation to help support the arts in the school system.
"Jesus teaches to care for your neighbor and care for people that aren't necessarily your blood, but still a part of your body because we're all humans," he said. "That's an impactful thing that I understood more as I got older."
Chance also said his parents have been instrumental in teaching him to help others.